BRANCQUAERT Louis – BE – Hyppolite Corombelle
---
BRAND: Louis BRANQUAERT Bruxelles BE
SERIAL NO.: 987 – Mod.: Self opening "Purdey"
BORE: 12 (0,732 – 0,728)
BARRELS length and weight: 29,53 in –3,164 lb
1st BARREL CHOKE: light full
2nd BARREL CHOKE: full
CHAMBER: 2,756 in
STOCK LENGTH: 14,37 in (right hand)
WEIGHT: 7,463 lb
MANUFACTURE YEAR: 1927
NOTES: demibloc barrels, checkere concave top rib, action flats 1,97 inch., double trigger, ejectors, "Purdey-Beesley" type locks, triple Purdey closure.
This Brancquaert, of the highest quality, witnesses the level reached by the best Belgian gunmakers working in the period among the two World Wars.
The barrels come from Defourny. The Purdey-Beesley mechanics are inserted into a strong frame with a deep back and short flats for that period.
Once obtained an unfailing structure, Brancquaert lightens the volumes emphasizing the elaborated creasing that joins the top rib to the ball fences. 
The force turns into solid elegance. The action seems longer than it is thanks to the refined profile of the fore-end.
The stunning engraving made by Hyppolite Corombelle and the grade 4 walnut stock complete the work.
The gun, this one, is better described in:
"I grandi fucili Europei" by Gianoberto Lupi.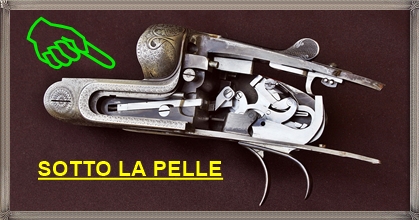 ---