CORTESI F.lli – Vergiano
---
BRAND: Fratelli CORTESI – Vergiano RN
SERIAL N°: 02 – Mod.: Tripletta 
BORE: 12  (0,732-0,724-0,724))
BARRELS lenght and weight: 27,17 in – 3,483 lb
1st BARREL CHOKE: improved cylinder
2nd & 3rd BARREL CHOKE: modified & full
CHAMBER: 2,756 in
STOCK LENGHT: 14,37 in (right hand)
WEIGHT:  7,397 lb
MANUFACTURED YEAR: 1952/56
NOTES:Monobloc barrels, smooth concave top rib, Boss type lumps, back action sidelocks for the 1st and for the 2nd barrel, bar springs on the triggers' plate for the 3rd barrel, ejectors for the 1st and 2nd barrel, rounded action, engraving by Natale Fabbrizioli.
Soon after the 2nd World War Salvatore Cortesi developed a gun with three barrels inspired by the germanic drilling, this one, however, is generally disharmonious in the rare version with three smooth barrels, due to the excessive height of the frame. 
Cortesi has been able to reduce the frame's dimensions using a "Boss" approach for the closure, the result is a gun with profile and handling typical of a side by side.
Around the world there are about 70 triple barreled guns made by the Cortesi family, a few from Salvatore in Rimini and the others coming from the workshop in Vergiano, and no two are the same.
The first three barrels gun made by Cortesi from Vergiano
This one, with serial number 2, probably is the prototype of the one, with serial number 1, ordered by Her Majesty the Ottoboni Princess.
It was necessary to adjust the complicated mechanism; the effort for the construction of the two specimen took four years.
Both guns have been engraved by Natale Fabbrizioli; this one has a straight hand grade 4 walnut stock with an engraved bone buttplate.
The talent of Alfredo and Virgilio Cortesi, something that goes beyond the ability of a skilled gunmaker, is revealed only when this first triple barreled is disassembled and analyzed.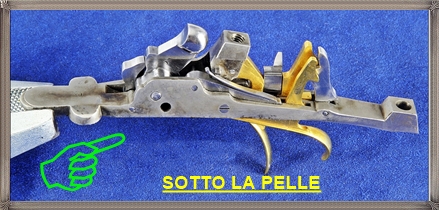 ---