BERETTA P. G.V.T. Italy AS20eell
---
BRAND: Pietro Beretta – Italy
SERIAL: 21912 – Model: AS20eell
BORE: 20 (0,622 – 0,622)
BARRELS length and weight: 27,56 in – 2,469 lb
1st BARREL CHOKE: modified
2nd BARREL CHOKE: light full
CHAMBER: 2,756 in
STOCK LENGTH: 13,97 in (right hand)
WEIGHT: 5,589 lb
MANUFACTURE YEAR: 1959
NOTES: monobloc barrels, ventilated top rib, double upper closure, locks on the triggers' plate, ejectors, double trigger.
Grade 4 straight hand walnut stock, "eell" engraving signed by B. Consoli.
It is surprising that the author Gianoberto Lupi, our unquestionable master, did not have a great consideration of this over and under, accusing it of mannerism.
He wrote: the profile of the action opposes the barrels in the Nimrod (1920 circa) mode. The closure is copied from the Lebeau-Courally one, who in turn was inspired by the E. Green patent of 1912.  The ejectors are taken from a 1888 Cogswell & Harrison side by side.
With the AS version it should be necessary to add:
The locks on the triggers' plate are the "Blitz" ones, used  by the Germanic gunmakers.
For us instead the Beretta's designers first found the most appropriate techincal solutions and then joined them creating an unicum.
Beretta AS eell 20 bore
This light over and under, made elegant by the straight hand stock, is enriched by the engraving signed B. Consoli.
To see what's under the skin please click the image below.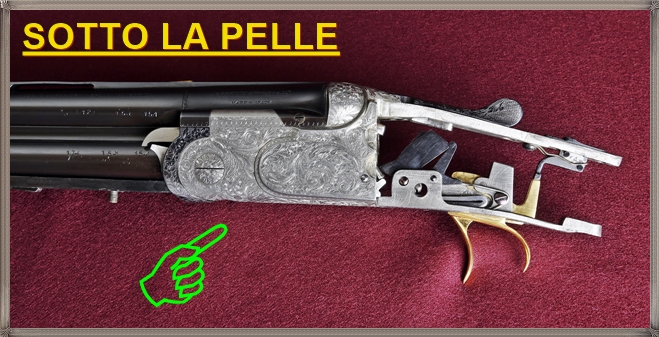 ---