CORTESI V. & N. – Vergiano (RN) Tripletta
---
BRAND: V.& N. Cortesi – Rimini 
SERIAL N°: 49  – Mod.: Tripletta 
BORE: 12  (0,724 – 0,724 – 0,732)
BARRELS length and weight: 25,59 in – 3,351 lb 
1st BARREL CHOKE: improved cylinder
2nd BARREL CHOKE: modified 
3rd BARREL CHOKE: light full
CHAMBER: 2,756 in
STOCK LENGTH: 14,37 in (right hand)
WEIGHT: 6,647 lb 
MANUFACTURE YEAR: 2003 
NOTES: chopper lumps barrels, locks with bar springs on the trigger plate, single trigger for the first and second barrel, second trigger for the third barrel, round body, engraving by G.M. Sabatti.
Nerio Cortesi says: "When Gian Marco Sabatti first saw the parts to be engraved, he was so smitten to leave his other works apart and immediately started with this one".
The renowned engraver added beauty on an already beautiful thing and, once it passed the color case hardening process, it's been enriched with an incredible range of tones passing from light grey to blue.
The smaller parts, set in the glossy finished walnut, are a jeweler's work.
The barrels, as aked for a gun of the highest level, have a concave top rib, the hardest kind to be done in the right way.
Primus inter pares, this n° 49, thanks to the equilibrium among its parts, become a side by side with three barrels.
Once on your shoulder you don't advise the weight of the lower barrel.
To see how this gun is designed please go into the Under the skin section of this site.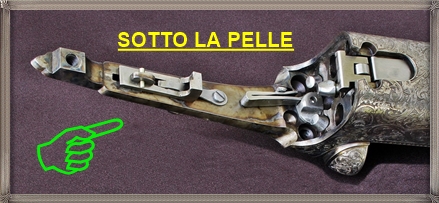 ---